The Atlanta Press Club Loudermilk-Young Debate Series will host the primary election debates for Governor, Lt. Governor, Insurance Commissioner, Secretary of State, State School Superintendent, Public Service Commission districts three and five, and Congressional Districts six, seven and ten. The debate series will begin on Tuesday, May 1, 2018, and will continue through Thursday, May 17, 2018.
Select debates will air on Georgia Public Broadcasting. All debates will be available for viewers to watch online as they take place and on demand via Facebook Live at www.fb.com/TheAtlantaPressClub and GPB.org. The primary election will be held on May 22, 2018. 
All candidates who qualify with the Georgia Secretary of State's office to have their name on the ballot are invited to participate in the debates.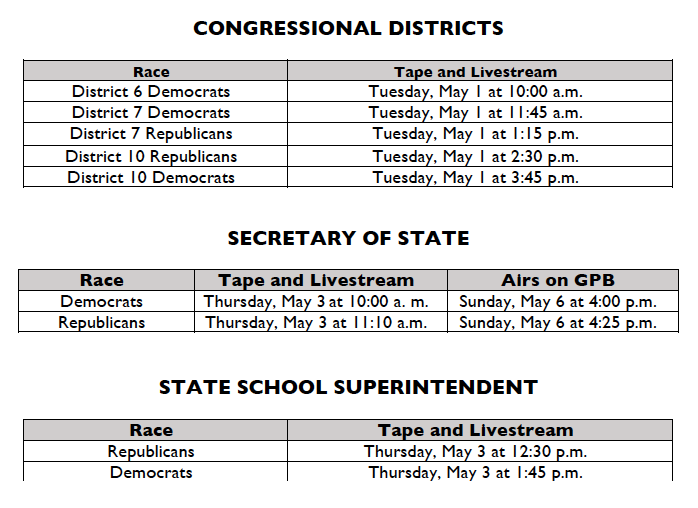 History of the Loudermilk-Young Debate Series
For more than 20 years, the Atlanta Press Club, in partnership with Georgia Public Broadcasting, has been organizing the premier political debates in the state of Georgia. The Atlanta Press Club Debate Series provides the most comprehensive, timely and widely viewed series of political debates during every election year in Georgia.
In 2011 R. Charles "Charlie" Loudermilk, founder of Aaron's Inc., pledged $1 million to permanently endow the club's series of political debates during every election year in Georgia. In honor of Loudermilk's close friendship with former Atlanta Mayor Andrew Young, the debates are named the Atlanta Press Club's Loudermilk-Young Debate Series.
Previously, the Debate Series was funded from support by the late Tom Watson Brown.