Click here on November 19 to watch the 2020 Hall of Fame live stream on our Facebook Page.
Click here on November 19 to watch the 2020 Hall of Fame live stream on GPB.org.
Tune in to Georgia Public Broadcasting television or GPB.org on Thursday, November 19, 2020 at 7 p.m. EST for a special 10th anniversary broadcast of the 2020 Atlanta Press Club Hall of Fame Celebration. You can also stream this virtual event live on the Atlanta Press Club Facebook page.

Join us for an evening of Atlanta history as we honor 44 legends, leaders, truth-seekers, storytellers, photographers and investigative reporters who made their mark on journalism in Georgia and beyond—including 2020 Hall of Fame Honorees Boyd Lewis, Lee May, Pat Mitchell and Bill Rankin. We'll also introduce you to future leaders in journalism and media. Don't miss it!
Download the digital event program here: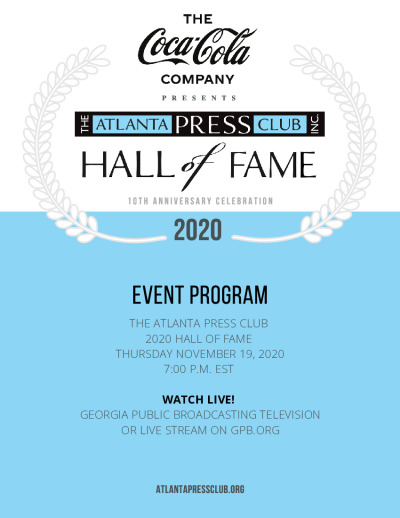 WATCH PARTY BENEFITS:
When you register, we will send you reminders and links to watch the show, including the Facebook livestream and chat on November 19 at 7 p.m. EST. 
PLUS: We are offering special perks for those who donate to the Atlanta Press Club 2020 Hall of Fame:
>>> Donate $1000 to be listed as a Watch Party Producer in our digital program, receive a shoutout on social media and receive two luxury commemorative items.
>>> Donate $500 to be listed as a Watch Party Director in our digital program and receive one luxury commemorative item.
>>> Donate the price of a ticket ($100) by November 18 and we will list you as a Watch Party VIP in our digital program.
>>> Donate any amount and you will receive our VIP newsletter.
Learn more about our 2020 Hall of Fame Inductees:
Boyd Henry Lewis, Jr. is a photographer, teacher and former journalist who worked with black-owned newspapers in Atlanta. Lewis was hired by the Atlanta Voice, a black-owned weekly newspaper, in 1969 and in 1973 by the Atlanta Inquirer, where he covered Mayor Maynard Jackson and the election of civil rights leader Andrew Young to Congress. Lewis later became a reporter and wrote, produced and hosted "Southwind" a program featuring news, interviews and events in Atlanta. 
Lee May, who died in 2014, was a graduate of the Columbia University Graduate School of Journalism. He won the National Conference of Christians and Jews' Gold Medal Award and the Robert F. Kennedy Journalism Award Grand Prize. In addition to writing the book Gardening Life, Lee May also authored My Father's Garden. May wrote for The Los Angeles Times and The Atlanta Journal-Constitution for 25 years, as well as Southern Living and US Airways' in-flight magazine – Attaché, as well as numerous home and garden publications.
Pat Mitchell holds the distinction of being the first woman president of PBS and of CNN productions. She is also a visionary, award-winning TV and film producer. She serves as the editorial director of TED Women, chair of the Sundance and the Women's Media Center boards and a trustee of the VDAY movement, the Skoll Foundation and the Acumen Fund. She is an advisor to Participant Media and served as a congressional appointment to The American Museum of Women's History Advisory Council. She is the author of the 2019 book, Becoming a Dangerous Woman: Embracing Risk to Change the World.
Bill Rankin is The Atlanta Journal-Constitution's legal affairs reporter and has worked for the paper for more than 30 years. Since 2015, he has been the host and narrator of the AJC's "Breakdown" podcast. He has covered trials such as Atlanta lawyer Fred Tokars, NFL star Ray Lewis, the Gold Club and Justin Ross Harris. Bill has also exposed inequities and breakdowns in Georgia's indigent defense system, its administration of the death penalty and its civil and criminal justice systems. Bill is the son of Jim Rankin, who worked as an editor for the newspaper for 26 years before retiring in 1986.
---
The Atlanta Press Club
2020 Hall of Fame
is made possible
in part by our
generous partners:
---
---
Host Committee:
The Scott Seydel Family
Edwina & Tom Johnson
Phil Kent
Arthur M. Blank,
the Arthur M. Blank Family Foundation
Christiane Amanpour
Monica Pearson
Ted Turner,
Chairman, Turner Foundation, Inc.
---