Vice President of Marketing at National Center for Civil and Human Rights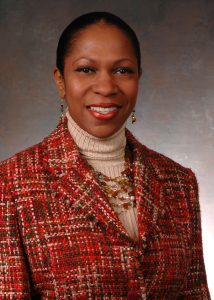 Judith Service Montier is vice president of Marketing and Communications for United Way of Greater Atlanta where she is responsible for branding, internal and external communications, public relations, advertising, special events and interactive work. Prior to her role at United Way, Judith served as the director of Marketing and Corporate Sponsorship for the National Black Arts Festival, the entertainment manager of the Olympic Village for the 1996 Centennial Olympic Games and worked for superstar Diana Ross.
Judith is a graduate of Dartmouth College. She serves on the board of C.H.O.I.C.E.S. (Center for Helping Obesity in Children End Successfully), the Rialto Center for the Arts marketing advisory board and is a volunteer for A Better Chance, a college preparatory high school program for Children of Color and the AIDS Quilt. Judith is married to Juan Montier, an interior decorator with a passion for food. They have two sons and reside in Decatur. She is a member of Leadership Atlanta's class of 2013.