The Atlanta Press Club's mission is to serve the evolving professional, educational and social needs of our media community, foster journalistic excellence and advance the public's interest in and understanding of a free press.
Support for the professional needs of Atlanta's media community is more important now than ever before. Good journalism serves our nation; it ensures the checks and balances that keep our institutions strong. We ask you to help the Atlanta Press Club support journalism.
Levels of Support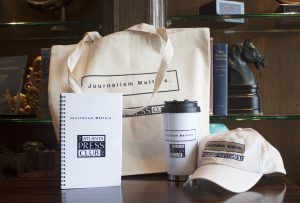 $50 – Listed as a supporter of journalism on Atlanta Press Club website.
$100 – Listed as a supporter of journalism on Atlanta Press Club website and receive a Journalism Matters lined notebook or tote bag.
$200 – Listed as a supporter of journalism on the Atlanta Press Club website and receive a Journalism Matters baseball cap or stainless steel travel mug.
$350 – Listed as a supporter of journalism on the Atlanta Press Club website, receive two Journalism Matters items of your choice as well as two tickets to the Atlanta Press Club Hall of Fame dinner on Tuesday, October 10 at InterContinental Buckhead.
Support journalism by donating today.
Here are some of the ways the Atlanta Press Club supports journalists:
Training Programs and Workshops
As part of our mission, APC provides training sessions throughout the year to help working journalists do their jobs better. Recently, we've held writing workshops to help journalists hone their pitching, storytelling and editing skills. We've also hosted training sessions focused on sharing technical tools journalists can use to make gathering and compiling information easier and faster.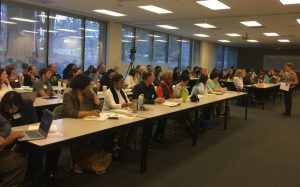 In addition, we hold monthly educational programs on legal and social topics such as current legislation, First Amendment law, race and the media.
Supporting Future Journalists
APC supports local journalism students with programs specifically tailored to those continuing their educations.
We annually place local journalism students with paid summer internships at some of Atlanta's best news organizations, including the Atlanta Journal-Constitution, WABE, the Atlanta Business Chronicle, Atlanta Magazine, Creative Loafing and others.
These internships allow up-and-coming journalists to gain hands-on experience with seasoned editors and journalists while completing their educations.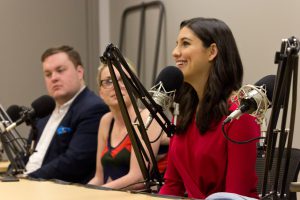 Additionally, APC's "Get the Scoop" program is now in its second year. Get the Scoop is a student-only event held once a semester at a local university. Journalism students attend a panel discussion with local journalists just getting started in their careers to discuss how to land a first job, how to pitch stories and how to network.
Recognizing Quality Journalism
While supporting and encouraging good journalism, APC recognizes the excellent journalism already being done. Our annual Awards of Excellence celebrates the best journalism in the Atlanta area. A volunteer judge from the National Press Club, who has judged our Awards of Excellence for two years, recently said, "Atlanta is blessed with having a vibrant print and broadcast media." We believe an effective way to counter recent attacks on the media is to shed light on good journalism, and our Awards of Excellence continues to foster this idea.