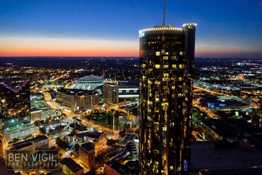 Since its founding in 1964, the Atlanta Press Club has had offices in prominent locations throughout the city, including CNN Center and Georgia Public Broadcasting.
In 2003, Tom Johnson, retired CEO of CNN and Commerce Club member, suggested that the Atlanta Press Club move its facilities to The Commerce Club to create a stronger alliance between the business and media communities.
For seven years the Atlanta Press Club enjoyed being on the top floor of The Commerce Club in the historic Bennett Brown Building in downtown Atlanta. In 2010 the Press Club moved into the new Commerce Club on the 49th floor of 191 Peachtree Tower in downtown Atlanta. The Atlanta Press Club relishes the comfortable, elegant and friendly atmosphere, which is very similar to the National Press Club in Washington, D.C. and is a few blocks from some of the major media outlets including CNN, Atlanta Magazine, The Associated Press and Bloomberg News.
In 2015, the Press Club moved into its own suite on the 39th floor of 191 Peachtree Tower. While the Press Club still holds many events, including the NewsMaker luncheon series, at the Commerce Club, day-to-day business is conducted from Suite 3960.
______________________________________________________________________________________
191 Peachtree St., N.E.
Suite 3960
Atlanta, GA 30303
For directions click here.
Guests can park in the 191 Building parking deck with entrances on Ellis and Peachtree Center Avenue streets. The Peachtree Center MARTA station is also very convenient.
______________________________________________________________________________________
Dress Code:
While traditional business attire is always appropriate, "Business Casual" is also welcome at the Club. The following is intended to clarify what will be allowed at the Club.
Denim or "nice" jeans are permitted.  The denim may not be faded or torn.  A collared or banded neck, dress shirt or sweater must be worn with denim. No T-shirts, tank tops, tank-style undershirts or halter-tops will be allowed, regardless of logo or imprint.
Tennis shoes, sneakers (unless worn for medical reasons), flip-flops and other casual shoes are not permitted. Shorts, sweat suits, jogging/tennis and other athletic attire are never permitted.